The popularity of drones has soared in recent years. But with drone use reaching astronomical heights, it is now more important than ever to discuss what is safe and legal in the world of Unmanned Aerial Systems (UAS).  
It is important that you do know where you can legally fly as anyone choosing to pilot a UAS is subject to FAA guidelines and regulations. That means that you are personally responsible for flying legally, and getting it wrong can be a costly mistake. In fact, if you break the rules, the FAA could fine you up to $27,500 for civil penalties and up to $250,000 for criminal penalties. 
You could even face jail time. 
Luckily, there are lots of resources out there to help you stay on the right side of the law. But before we look at the apps and other resources available on the market, let's look at some of the basic information you should be aware of.
Where Is It Legal to Fly Drones?
Whether you are flying a drone for business or pleasure, it is important to understand the law. Specific rules and guidelines vary from state to state, but there are some basic things everyone should know. 
The first step is to understand is who makes the rules; in the USA, the governing body responsible for setting guidelines and regulations for the flying of drones is the Federal Aviation Administration (FAA). The second thing to understand is the difference between "no-fly" and "restricted" zones. Think of a no-fly zone as a giant red flag – in these areas, you cannot use your drone under any circumstance. However, restricted zones are a little more flexible. 
You may be able to fly in restricted zones, providing you follow all relevant guidelines, including seeking permission when required. The resources listed in this article will tell you whether an area is ok to fly in, but since no app is infallible, here are some of the basic rules you should be aware of.
First, it goes without saying that the airspace around airports can be especially busy. To keep everyone safe, the FAA requires that you request permission to fly near airports, and you can do so by way of Low Altitude Authorization and Notification Capability (LAANC). It is important to note that permission may be denied, and if you fly dangerously, you will be held personally responsible for any safety hazard that occurs.  
Next, If you imagined flying your drone over your favorite sports stadium to watch your team play, I'm afraid this next rule will come as a disappointment. Flying drones in, or around sporting stadiums is prohibited from one hour before to one hour after the scheduled time of any Major League Baseball; National Football League; NCAA Division One Football; NASCAR Sprint Cup; Indy Car; or Champ Series events. Looks like you'll have to get a ticket to the game after all.
Ok, what else? The FAA prohibits the flying of drones over 'security-sensitive facilities'. This includes facilities run by the Department of Defense, national landmarks, and certain critical infrastructure (e.g. nuclear power plants). But how will you know which facilities are security-sensitive? It is not always possible to predict which landmarks and facilities are deemed security-sensitive, and this can make flying safely tricky. Luckily, a map showing all security-sensitive facilities can be found here: Map of Security-Sensitive Facilities. 
Oh and one last thing, the FAA prohibits the flying of drones over any emergency or rescue operations. This includes wildfires and hurricanes. 
9 Drone Map Resources That Show Where It's Legal to Fly
You could spend all day trawling through the internet to find out where you can legally fly your drone, but that would be time-consuming and not much fun. Luckily, there are a whole host of resources designed to inform drone users of where they can and cannot fly.
Apps offer a convenient method of checking airspace regulations on the go. So, let's start by looking at what's on offer via the Apple App Store and Google Play Store.
Hover 
Useful for hobbyists and commercial drone pilots alike, the Hover app includes an international, user-friendly map detailing no-fly zones and features a whole host of added extras. 
These extra features include detailed weather data; flight logs; and a news feed showing content from company blogs, news blogs, and major media publications-perfect for keeping up to date with current news and trends.
The Hover also includes a 'flight readiness indicator'. This time-saving tool pulls together data on your location and local weather conditions, to provide a clear and simple indication of whether it is safe to fly. 
However, it is worth noting that the Hover app has received mixed reviews from its users. The general consensus is that when it works, the app is great. But occasionally bugs render Hover unusable. 
Key Information:
Price: Free
Available on: Andriod, and iOS (currently unavailable on iOS in the US)
Applicable- Worldwide
What is the takeaway? With its handy 'flight readiness indicator' and user-friendly map, the Hover app is a brilliant free option for drone pilots…that is, if it works.
UAV Forecast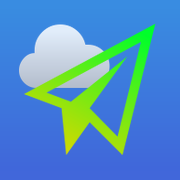 The highly-rated UAV Forecast provides a clear map highlighting where it is safe to fly, along with no-fly and flight restricted zones for drones. With a website, Android app, and iOS app to choose from, it can be used by any drone enthusiast, regardless of what smartphone they use.
In addition to providing information about no-fly zones, the UAV Forecast offers detailed weather forecasts, including wind and gust speeds at ground level and at any altitude, cloud coverage, and KP reports.
The basic version of the app is free to use and provides all the information needed to fly legally. However, if you like to plan ahead, you can upgrade for a small fee and gain access to their 7-day weather condition forecasts.
Key Information:
Price: Free
Available on: The web, Andriod, and iOS
Applicable- Worldwide
What's the takeaway? Available through the web, Android, and iOS, this highly-rated and free app is a solid choice for drone enthusiasts. 
AirMap
AirMap is Let Us Drone's top pick!
Designed and run by industry professionals with backgrounds in aviation, telecom, automotive, defense, aerospace, public policy, and cloud software, the sleek AirMap is a reliable option for commercial businesses. Simple and easy to use, it is also a fantastic option for drone enthusiasts, whether they are seasoned pilots or complete beginners to the hobby.
Highly rated by users, AirMap provides an interactive map of the sky, along with up to date information on airspace rules and weather conditions across 20 countries (including the USA, Canada, Japan, and the UK). In addition, the app includes a handy feature that allows you to request digital authorization to fly in restricted zones (LAANC) and provides air traffic alerts.
Key Information:
Price: Free
Available on: The web, Andriod, and iOS
Applicable- 20 Countries Worldwide
What's the takeaway? Arguably the most user-friendly map on the market, this free app is a great choice for commercial pilots and hobbyists. 
Drone Buddy
Available on iOS and Android, Drone Buddy links with AirMap to show both no-fly zones and temporary flight restrictions, through an interactive map.
In addition to providing access to AirMaps' innovative map, Drone Buddy provides accurate weather reports and includes a handy chat feature, allowing local pilots to contact one another to share recommendations and advice (currently only available on iOS).
Although highly rated, some users of Drone Buddy have complained of excessive adds and annoying bugs within the system.
Key Information:
Price: Free
Available on: Andriod, and iOS.
Applicable- 20 Countries Worldwide
What's the takeaway? With its chat function, the Drone Buddy app is another great option for pilots everywhere. However, with AirMap offering the same map without the associated ads and bugs, it may be better to lose the chat function in favor of user experience.
B4UFLY
Brought to the market via a partnership between the FAA and Kittyhawk, B4UFLY offers a simple and easy way for pilots to check airspace regulations before flying their drone. 
Only available in the USA, B4UFLY's sole purpose is to inform the user whether it is legal to fly in a specific location. Because of this, the B4UFLY app does not offer any additional features. 
Despite its highly specific function, users of B4UFLY have recorded bugs in the system. Additionally, some users have recorded been told a zone is safe when this is clearly not the case. Worryingly, this includes users reporting that the app tells them they are 'good to go', despite being stood a mere 5 feet from an active landing strip.
Key Information:
Price: Free
Available on: Andriod, and iOS
Applicable- In the USA only
What's the takeaway? Backed by the FAA, the B4UFLY should be a good option for pilots keen to stay on the right side of the law. However, based on some troubling reviews, we advise that you proceed with caution.
DroneMate
Highly rated and designed for a global market, DroneMate includes an interactive world map that is regularly updated, using laws sourced from each country's appropriate governing body (including US state laws). In addition, DroneMate provides users with contact information and links to registration forms, that may be needed when seeking permission to fly in certain locations.
With details of countries that do not allow drones to be flown, specific information about international tourist sites, and advice about areas where drone use has special rules or restrictions, DroneMate is a valuable tool for travelers. After all, no one wants to lose their drone to customs, or find themselves on the wrong side of the law in a foreign country. As an added bonus, the app includes a comment section where questions can be asked and answered by DroneMate users.
Key Information:
Price: $4.99
Available on: Andriod, and iOS
Applicable- Worldwide
What's the takeaway? Although this app isn't free, it is very highly-rated and probably the most comprehensive option for global travelers.  
+Drone
With a global map showing no-fly zones, integrated weather forecasts, and solar information, this Norwegian app is fast becoming a one-stop-shop for drone enthusiasts everywhere. That is, it will be once the initial bugs are ironed out.
Although many reviews of the +Drone are positive. Some users have reported issues with downloading the app, along with problems using the all-important no-fly map (especially in the USA). 
However, since the programmers at +Drone have recently reported that they have fixed some of these bugs, it is worth looking at what else the app has to offer. In addition to no-fly zones and weather forecasts, +Drone offers pilots the option to notify other drone users when they are flying. Using their map, it is also possible to find out if other app users are flying in your location. Whilst this is an exciting prospect, the usefulness of this application does rely heavily on the number of users in your area.
Key Information:
Price: Free
Available on: Andriod, and iOS
Applicable- Worldwide
What's the takeaway? The +Drone is definitely an app to watch, but at this moment in time, it lags slightly behind its global competitors.
Don't want to use an app? The following websites give you all the information you need from the comfort of your own home.
KnowBeforeYouFly

KnowBeforeYouFly is an interactive website and educational campaign. Founded by the Association for Unmanned Vehicle Systems International (AUVSI) and the Academy of Model Aeronautics (AMA), in partnership with the Federal Aviation Administration (FAA), it is highly recommended for American drone pilots who want to make sure that they stay within the parameters of the law. 
Using an interactive map powered by AirMap, this site allows the user to check whether any restrictions are in place before flying. KnowBeforeYouFly also offers the user a range of resources, including a downloadable brochure packed with information on how to fly legally, and a range of online safety guides.
Key Information:
Price: Free
Available on: The Web
Applicable- The USA
What's the takeaway? If you don't want to download an app, the KnowBeforeYouFly website offers everything you need to fly your drone in the USA. Founded by the Association for Unmanned Vehicle Systems International (AUVSI) and the Academy of Model Aeronautics (AMA), in partnership with the Federal Aviation Administration (FAA), you can be sure that the information given is sound and up to date. 
DJI FLY SAFEGEO ZONE MAP
Drone giant DJI includes a fantastic interactive map on their website. Showing users where it is safe to fly, where flights may raise concerns, and where flights are restricted. The map is functional and easy to use. 
Permanent GEO zones showing no-flight areas are displayed around locations such as airports, power plants, and prisons. While temporary displays show major stadium events, forest fires, and other emergency situations. In the case of restricted access, on-screen warnings inform users of potential risks.
Key Information:
Price: Free
Available on: The Web
Applicable-Worldwide
What's the takeaway? The DJI Fly SafeGeo Zone Map is a great resource. Available to DJI customers and those flying drones from other brands, its worldwide application is perfect for travelers as well as pilots flying in US airspace.
Frequently Asked Questions About Where It's Legal to Fly Drones
I Have Just Spotted a 'No Drone Zone' Sign, But My App Says I Can Fly. What Should I Do?
As annoying as it is, no app is 100% accurate. While the sign may have been put up in error, your best course of action is to keep your drone on the ground for now. 
For clarification, you may wish to contact the organization responsible for the land on which the sign is placed. If the sign has been put up in error, they should be able to remove it allowing you to fly with confidence.
Remember, the penalties for flying illegally are steep and it is always better to err on the side of caution. 
My House is Less Than 5 Miles From an Airport, Do I Still Need Permission to Fly My Drone?
Yes, you still need to gain permission before flying your drone within 5 miles of an airport, even if you live close by. 
While this may seem unfair, FAA regulations are in place to keep everyone safe and should always be adhered to. 
Can I Fly My Drone Over People?
No, the FAA does not permit you to fly your drone over people without their consent, regardless of whether you are generally allowed to fly in the area. For this reason, it is best to stay away from crowded beaches and city centers. 
Flying Drones Where it's Safe and Legal
While drone pilots must always exercise caution in order to remain on the right side of the law, the resources listed above make it easy to fly safely.
So, before your next flight, download an app, or jump on the web, and do your research.
Do you know about a drone map or resource that shows you where it's legal to fly your drone? If so, be sure to share with our audience in the comments section below!